If you desire an experience a tour that you and your loved ones pine for enjoyment to the fullest, most excellent idea would be to confirm on adventure deals in Nepal. You, your family and friends will undeniably enjoy the Heli Tour here. The experience can assuage you from the pressure brought by your daily grind. It is perhaps called coping up with the developing era and getting oneself advanced technologies. Heli Tour in Nepal recently has been skyrocketing approach to explore The Himalayas and Nepal as a whole.
Heli Tour in Nepal is revitalizing and pleasurable epoch out over the paradise of Nepalese hills, mountains and excessive Himalayas. The tour is a time honored alternative for the mountain enthusiasts who have short time length however desires to witness the large Himalaya chain and sightseeing. There are times when you essentially came to Nepal for a precise tour which just got accomplished yet your experience here obliged you to crave for visit and experience the other part of the Himalayas and you regrettably you are left with very few moment left then Heli Tour is your answer.
Nexus Travels & Tours offers Heli Tour packages of mountain views, city sightseeing, photography tours, research tours, filming tours in Nepal. Honeymoon tour for newly conjugal couple or exceptional occasion / jiffy celebrations in the remote part of the Himalayas with your beloved is the dream come true service. The Heli tours to the base camp of Mt. Everest, Mt. Annapurna by far are the most famous ones. This type of tour is the easiest, greatest and most satisfying way to know Nepal up close and personal.
We organize Heli Tour to Annapurna, Everest, Langtang, Muktinath and Gosainkunda, round Kathmandu and Pokhara valley which are recognizable for Helicopter tour. Moreover, Muktinath and Gosainkunda are the Hindu pilgrimage vicinity where many Nepalese and Indians are witnessed to take the Heli Tour to worship and pray God Mahadev/Shiva for lengthy life, healthy, property and so on. When you are with Nexus Travels & Tours we can take you to the largely remote, unbelievable surroundings anyplace in Nepal. We are continually on the sentinel for new and magnificent tour packages for our visitors would like to return.
Although Heli Tour can be organized throughout the year, the best time to enjoy the tour is during the months of March – April – May (Spring Season) and October - November (Autumn Season). We always assure and spotlight on secure and eminence helicopter flights on private charter or group joining tour, Heli Tour is not restricted to any sort of age limits. You with your friend, family, children can enjoy the adventure that is persuaded to last ceaselessly in your in depth memories for lifetime.
Visualize hopping on to a Helicopter and witnessing beautiful aerial glances of Kathmandu Valley from the calmness of the Helicopter or flutter to Everest region to see the spectacular Himalayan peaks devoid of having to trek. Yes, Nepal Heli Tour is in a minute with those exact endeavors. It gives you contentment, class and exclusive ticket to by-stand some of the most staggering landmarks the country Nepal has to offers. Jig aboard on the Heli Tour and you will be taken on a lifetime experience of escalating the unpredicted topography of temples, villages, rivers, hills, valleys and many more palaces. Savior this extraordinary combination of background in the shortest possible time and escaping of any traffic hassles.
Nexus Travels & Tours offers the followings most popular Heli Tours:
Kathmandu Sightseeing Heli Tour

Pokhara Sightseeing Heli Tour

Annapurna Base Camp Heli Tour

Gosaikunda Heli Tour

Langtang Heli Tour

Rara Heli Tour

Damodar Kunda Heli Tour

Kailash Mansarovar Heli Tour
---
Heli tour to Annapurna Base Camp from Kathmandu and Pokhara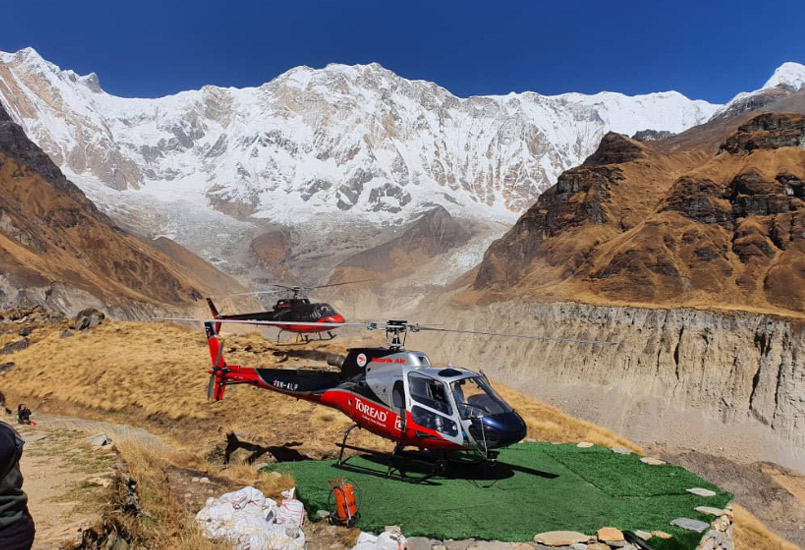 Annapurna Base Camp tour by helicopter is a comfortable way to reach the base of Mt. Annapurna, the tenth highest mountain in the world, on a helicopter. This helicopter tour allows you the comfort of flying directly to Annapurna Base Camp (4130m) from Kathmandu or Pokhara Airport, without the need to trek. The base camp offers 360 degree panorama of Himalayan peaks including Annapura and Dhaulagiri ranges. The entire trip takes about 2.30 hours with a brief stop at Poon Hill (3232m) to see the panoramic Macchapuchre, Annapurna and Dhaulagiri Mountains. The tour also takes you around the gorgeous Kaligandaki gorge (the world's deepest gorge) including Pokhara, Jomsom and Muktinath.
Heli Tour to Everest Base Camp from Kathmandu and Lukla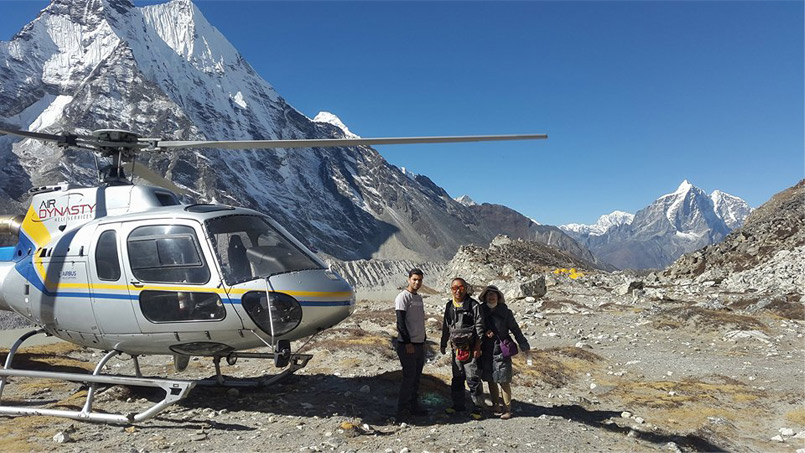 Heli Tour to Everest Base Camp provides you the luxury of visiting Everest Base Camp located at an altitude of 5364m on a private helicopter. This is suitable for all travelers especially those with limited time for trekking. You can directly fly to Everest Base Camp from Kathmandu or Lukla in comfort and style. Everest Base Camp offers beautiful, breathtaking views of tallest Himalayan peaks including Mt. Everest (8850m), Lhotse, Nuptse, Cholatse, Ama Dablam, Cho Oyu, etc. The trip will last for about 2 hours with a short breakfast break at Syangboche.
Muktinath Heli Tour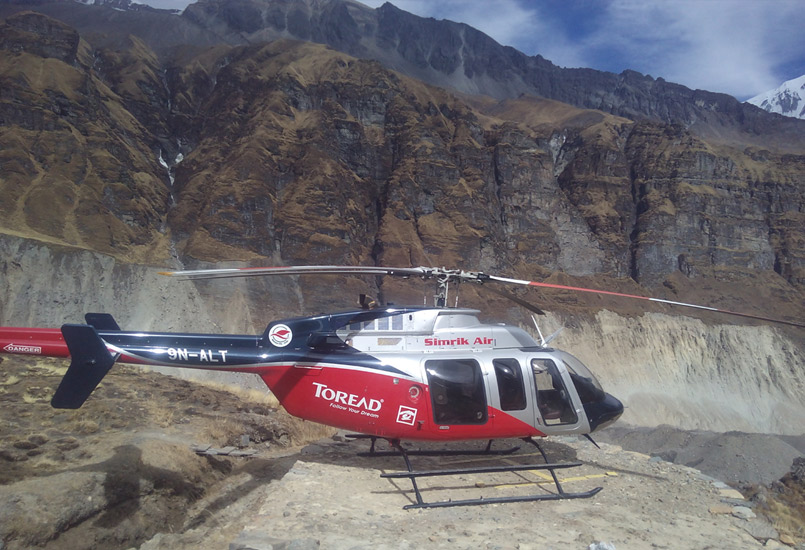 Situated at a height of 3800m, Muktinath is one of the most revered temples among Buddhists and Hindus. A pilgrimage to Muktinath is a lifelong dream for many; however it may not be an easy journey since it would take days to get there either on foot of four wheel vehicles.
We are offering Muktinath Heli Tour to all the pilgrims and tourists who have limited time but still want to pay homage to Muktinath. We will take you on a helicopter ride so you would be able to reach the temple quickly and in the comfort of your seat. We will fly high over the hills, valleys and rivers and finally reach the temple on the banks of Kali Gandaki River.
It could be a day's worth journey or could well extend 2 to 3 days depending on how long you wish to stay in Muktinath.