Remarkable adventure activities tourist inflow is being witnessed in Nepal for past few decades to partake into action with the numerous choices of activities Nepal can Offer. Normally visitors to Nepal are essentially estimated to arrive to either to join in merely some trekking or expedition activities or for some spiritual reasons but that is no longer true as the adventure activities list in Nepal has lengthened much more than just trek or expedition. Adventure travel & tour is one of the fastest developing but least understood outline of international tourism. Nepal is one among the paramount destinations in the world for adventure tourism which offers a dissipation of outdoor activities. The near-death experience, the hustle of adrenaline, and the health benefits associated with the same are three of the primary reasons behind the popularity of adventure sports in recent times.
Participation in adventure activities helps our body emit a whole lot of dopamine in our brain. Dopamine (AKA the jovial hormone) can really help in making you happy and keeping depression far away in the best possible approach. It can push you beyond your mental and physical limits. Whenever this happens, you start losing your cool. If you are besieged to keep in shape for any reason, adventure sports can undeniably be your way to go. It can help to improve your balance on the whole play a key role in improving your hand-eye coordination skills. Once you give any adventure activity an appraisal, you will notice that you have naturally urbanized a sense of self-confidence and self-esteem for good. Generally adventure sports require our entire body to get into the pattern of action. This preserves a huge role in developing blood circulation in the body. Consequently, to sum up, adventure sports activities can absolutely benefit you, on the whole. One condition you take proper safety measures to go along with it and for which Nexus Travels & Tours provides you with the best professional and experience guide for any proposed Adventure activities you propose.
Adventure activities can be accomplished and organized throughout the year however Spring Season ( March to May) and Autumn Season (September to November) is considered best as the weather is clear and the natural forest and the other landscapes are best bystander in these seasons.
The admissible role of Adventure Tourism in the economic expansion of remote areas and its constructive effect on local community, economy, and the environment are being eminence out gradually by Nepal. With its stable growth, adventure tourism in Nepal will play a significant role for nationwide and local development in the leading edge areas. Adventure activities can ease you from the pressure brought by your daily grind. All you got to do is to grab your favorite adventure gears (Can be bought and hired here) and head to Nexus Travels & Tours.
Adventure Activities with Nexus Travels & Tours
---
Trekking: Trekking is still the most admired adventure sport among visitors of Nepal. Captivating Landscape and appealing flora and fauna have always made Nepal as dominant trekking and hiking adventure destination. Hiking and Trekking in Nepal will unquestionably be a one life time experiences.
---
Jungle Safari: Jungle Safari is organized in the Terai which is ideal activity to see Nepal's rare variety of animals and birds. An endeavor into the rich green forest on an Elephant's back in the Terai region crossing rivers and swamps will give an added prospect to discover Flora and Fauna of Nepal and meanwhile bump into rare animals and birds closely. It is recommended that you to be prepared for a royal treat because Royal Bengal tiger probably will surprise you by his flamboyant appearance.
---
Mountain Biking: Mountain Biking is another wonderful adventure sport activity and since Nepal is enriched with assorted terrain. It tenders environmental friendly approach to discover the magnificent landscape and vivacious ethnicity and the extraordinary heritage. Publicizing through the mysterious trails of the rarely visited pastoral villages, you will encounter life with peace and harmony practicing their identifiable culture and speaking some of their own parlance.
---
Bungee Jumping:
The Bungee Jumping in Nepal offers one of the highest and best bungee experiences in the world. The Bungee facility is located along Nepal-Tibet border at The Last Resort, a 3 hours drive from Kathmandu along the Araniko Highway.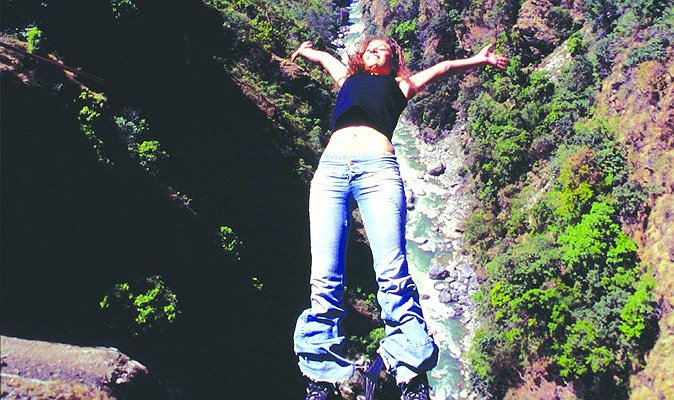 Built by a team of New Zealander experts, the facility prominently features 166m long steel suspension bridge over the Bhotekoshi River, one of the famous Himalayan Rivers for whitewater rafting. The Bungee literally involves jumping off this 160 meter high bridge into the gushing Bhote Koshi River below.
So pull yourself together and get ready to get the ultimate adrenaline rush. It is perhaps the most thrilling, adventurous and memorable experience you can have while in Nepal. The facility is open throughout the year and buses routinely leave every day.
Please note that people suffering from heart disease, epilepsy and high blood pressure, people having psychological and neurological disorder and pregnant women and alcoholics and drug users are not allowed to the Bungee Jumping.
---
White Water Rafting: This sport offers a inimitable opportunity for an amazing wild water familiarity with the rapids of different levels making you're crave for adventure even gratifying. After a briefing concerning safe rafting from you river guide, you will be all set for your rafting trip down the river grades of 3 & 4. You will enjoy one of the most thrilling white water rafting in Trishuli River for 3 delightful hours. The rafting trip will without doubt give you the most unimaginable experience filled with paramount thrill and excitement.
---
Paragliding: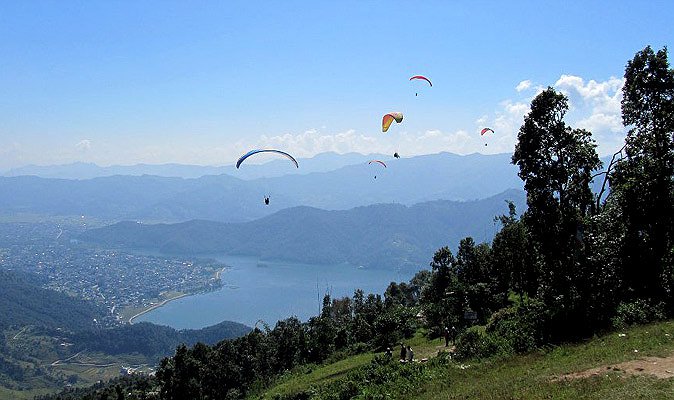 Paragliding is undoubtedly one of most adventurous sports in Nepal. If you would like to fly like a bird in the air and feel the beauty of landscape beneath then paragliding is for you.
Appreciating the beauty of the tallest Himalayas is no doubt one of the most inspiring things you can do on a paragliding flight. Sarangkot (1592m) is the best known launching spot for pragaliding. Located in the scenic valley of Pokhara, Sarangkot gives us the magnificent views of the beautiful Phewa Lake and spectacular Himalayas including Annapuranas and Macchapuchre (Fist Tail Mountain).
There are various choices available for paragliding adventures ranging from tandem flight, solo flight as well as training courses. Paragliding can be done throughout the year in Nepal but Spring and Autumn are the best seasons due to clear visibility, snowcapped mountains and sunny climate.
---
Mountain Flight: Mountain flight offers you to come across with the highest mountains of the world closet aerial views. This mountain flight could be the best for those travelers who are constrained by the time for trekking. Mountain flight offers you an prospect to take a close look of the mountains you possibly must have dreamt of climbing. The mountain flight bestows you the panoramic view of the Himalayas within one hour, it's a very dazzling clear journey across the world's highest peaks Mt. Everest (8848m) and the other ranges of Himalayas namely Gauri Shanker (7134m), Nuptse (7855m), Lhotse (8516m), Amadablam (6812m), Chamland (7319m), Makalu (8463m), Cho Oyu (8201m), etc to name amongst mountains you would be able to scrutinize from its top.
---
Ultra-lights flight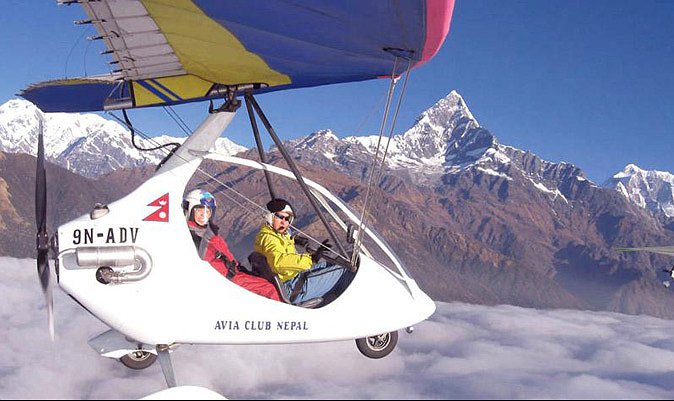 An Ultra-lightis a two-seated small aircraft designed to carry maximum of two people (pilot and passenger), having powered engine with a fuel capacity of 90 liters. Average speeds of ultra-light flights are about 80 km/hr. People fly Ultra lights because it is atrue refreshment! Ultra-light flights are considered as recreational aviation flight for people who admire adventures. Nepal has one of the most beautiful landscapes in the world snow-capped mountains, green hills, serene rivers and lakes.In comparison to regular aircraft, Ultra-light aircrafts are much safer due to their low weight and speed. Their unique design includes a ballistic parachute system that allows the aircraft to land safely in case of emergency.Ultra lights need only 300 meters of airfield to take-off or land.
Ultra-light aircraft was introduced in Nepal in 1996 and has been offering tours in and around Pokhara valley from Pokhara airport. Because of the proximity of the mountains and the scenic lake, Pokhara is the appropriate place for this activity as they share airspace with Himalayan griffin vultures, eagles, kites and float over villages, monasteries, temples, lakes and jungle, with a fantastic view of the majestic Himalayas. For those who wish they could fly like birds, this flight is a must. The flights are operated in the morning from sunrise till 11am and from 3pm till sunset.
Ultra-light flights give you a perfect opportunity to take clear photos of nature from the bird's eye view while flying. Leave your woes behind, soar to greater heights, bathe on clouds, breath pristine air and witness the beauty of azure sky. Doing an ultra-light flight is undoubtedly a life time experience.Ultra -light flights in Pokhara are available for 15 minutes, 30 minutes, 60 minutes and 90 minutes.
---
Mountain Expedition: Mountaineering in Nepal is one of the most attractive and brave part of adventure rather than trekking. This charming Himalayan country is one of the best ecstasies that meet anyone who wants to conquer high mountains on their own foot. This petite nation is the land of world's top highest crest including Mt. Everest which is royally crowned to the north.
---
Bird Watching: Nepal most unquestionably is a paradise for the bird spectators, with several National Parks and conservation areas it facilitates a large territory for the bird watchers to have alternatives as per their interest and time. Nepal is prosperous with over 850+ species of birds and spectacularly handful number of those birds can be spotted in and around Kathmandu valley itself. Bird watching is practiced in almost each corner of Nepal, right from sweltering plains of Koshi Tapu, Chitwan, Bardia which are core sites to the mountains of Everest and Annapurna range which are eminent areas for well-known species of birds.
---
Peak Climbing: Nepal is world wildly acknowledged as the world's best destination for expedition and peak climbing. Peak Climbing in Nepal is an attention-grabbing dream for many mountain ramblers. Peak climbing in general means climbing peaks which are above the height of 5,500m and below 7,000m. Nepal has been blessed in great quantity with peaks hence has unwrapped around 1310 peaks that are above 5500m for peak climbing. Some of these slighter peaks also referred as 'trekking peaks' are governed by Nepal Mountaineering Association (NMA), a private association entrusted to promote mountaineering and conserve mountain environment. Among them, 33 peaks have been branded 'A' and 'B' peaks by Nepal Mountaineering Association. The climbing permit for these 33 peaks is issued by Nepal Mountaineering Association and the rest is controlled by the Government of Nepal.
---
Canyoning: An adventurous journey all through intimate passages of knotted rock and powerful blasts of water as our expert leader guide leads you sliding, jumping and swimming down steep canyon walls to untouched pools down below. Nepal's unique canyoning zones is stimulated by awe-inspiring landscape of untouched jungle with multiple plummeting waterfalls dropping one after another into a spanking new pools down below. You are cordially invited to step outside of your ease zone and experience one of the Nepal's best held in reserve coverts.
---
Rock Climbing: Nepal offers abundant Rock Climbing sites which is yet an alternative exciting and adventurous chance to adherent of sport with climbing's suitable for both experts and apprentice. Balaju (Nagarjun forest), Hattiban Rock Climbing Site, Thame Rock Climbing Site, Kakani Rock Climbing Site, Bimal Nagar Rock Climbing Site (Near Bandipur), etc. are a small number of names to be mentioned.
---
Fresh Water Fishing: Fishing in Nepal is all with reference to Fresh Water Fishing, the water that is instigated from the snowy Himalayas of Nepal. If you adore angling, Nepal indeed is the best destination to be. There nearly around 200 species of fishes in the Himalayan lakes and rivers of Nepal. The Himalayan Masheer is most trendy species found in the rivers of Nepal. The other species namely Goonch, illusive catfish are yet another species among the other species for angling in Nepal. The other popular fish species in Nepal are Masheer (Sahar), Deep Bodied Masheer, Copper Mahasheer (Katle), Freshwater Shark (Gounch), Jalkapoor, Freshwater Eel (Raj Bam), River Catfish (Bachawa), Giant Murrel (Saur), Mud Eel (Hile Bam), Feather Back (Patali), Knife Fish (Chitala), Catfish (Buari), Tenger Catfish (Tengri).
---
Honey Hunting: In Nepal honey hunting is a practice that has inherited by numerous civilizations as an ancient culture. Indigenous people of Nepal essentially started this activity some thousands of years. The bee accumulates their hives on the high cliffs and the foothills which almost look akin to approximating a marble of gold hanging high, the honey hunters displays their outstanding proficiency hanging themselves from cliffs as high-ceilinged as 300 meters using only bamboo stepladder and hemp ropes to bring down the hive drenched in pure honey.